The Editor - Stefano Basilico
This reading was all about the editor's influence in the filmmaking industry. It informed me about how the editor is the shaping force behind the movie; they can edit the film and change the narrative. Editing can be done through manipulation, looping, repetition, erasure, cut and stretch. editing can sometimes help to tell a story more convincingly and make transitions look normal. Sometimes, there are certain editing methods that are used to make people accept certain conclusions. I think this is a very good point, as people are so connected and focused on the big data such as Facebook, and they don't notice that everything that they are looking at has been edited and specified to them. This was clearly shown in Adam Curtis video "Living in an unreal world (2016)".  (more research on Adam Curtis later)
There are other reasons that editing is used, such as Douglas Gourdon's piece on 24 hours Psycho, to make people feel a different type of feeling to the same content. this 24-hour psycho stretched the original movie and made it so overwhelming to watch. This hid what was apparent in the movie, and little expressions have been revealed with detail.  Personally, slowing down the process of something purposefully, really annoys me, as I am a fast-paced person in everything; therefore, one of the methods that I disliked was stretching. 
One method of editing which was really interesting to me was erasing parts of the video, in order to put the focus on something else. This really changed the whole meaning of the content and changes the scenario, and it can also confuse the audience, which I find really interesting. 
Reference
Basilico. S, Lessig.L, Yeo.R.  (2004) Cut: film as found object in contemporary video
Adam Curtis - Living in an unreal world
This documentary from Adam Curtis really made me think about how we are controlled in this society through the big data and social media, which is the reason why I chose this video specifically. Firstly, the music which was playing in the background was working really well with the content and I was able to understand it; it also emphasized the seriousness and the importance of the content. Sometimes, it would stop at certain points, which made me think about the voiceover in this video even more. Moreover, the voiceover of Adam Curtis on this documentary, was very calm and informative, which I feel like it was a great way to communicate and let the audience choose which side they want to choose and be more neutral. 
In this documentary, Adam was talking about how social media was supposed to be used to share information freely, but with the new system of the algorithms, they know so much about you and they use the techniques mostly for advertising and their marketing.which is really true, and I feel like his documentary was very raw and real and that is why I really liked it. sometimes, documentaries try to be less straight-forward and conservative. 
He also gave examples in his documentary, which just helped to prove his point in a way which the audience could relate to it, which I think it is really important and I may use this in my work, to get the audience's attention. 
Reference
 Adam Curtis Documentary (22/12/2016). Living in an unreal world. Last accessed: 28/10/2018. (REF)
Hodgkinson.T (30/06/2018). The Idler. Adam Curtis: "Social media is a scam". Last accessed: 28/10/2018. (REF)
Visit to Zabludowicz collection
Rachel Maclean
The piece, Make me up, by Rachel Maclean was very powerful; it showed the issues that women face daily today, and how women are forced by different powers to fight for their freedom and how social media has been affecting them in different ways. My favorite part was at the beginning, where each person was being introduced to Siri, and their whole description included, cute, gorgeous, hot, and sexy as if women are objects made for men to look at and be pleased of their existence. 
Tamu Nkiwane
Paul McCarthy
the 360 Virtual reality room by Paul McCarthy  changed my perception on the outcome that I can produce with 4D. Choosing a virtual room to present this work was really powerful and overwhelming to watch, as it was all you could see and the figures were staring at you and the sound and faces covered all over the room. 
Cassetteboy vs Theresa May
This video is one of the reasons why I chose to do something related to politics and my hometown. I found this video more interesting than other artists working in the same field such as Douglas. This piece was made by the use of words cut and connected together to make a whole different meaning of the original content, which is a really captivating way to show your point of view through another person's words. 
I learned that sometimes, humor is a great way to get the attention of the audience, so I was thinking of using this method in my future work. 
Reference
Cassetteboy (6/06/2018). Cassetteboy vs Theresa May (REF)
Christian Marclay - The Clock
This piece from Christian Marclay was really interesting as it is all about time. Different scenarios have been used and built this 24-hour piece all about the time. it is a very slow process, and it takes a whole day to see the whole piece. but the concept of it is fascinating, how you are sitting in a place and all you see is the time, which is hard to concentrate on personally for a whole hour or day. 
This piece really makes you think about how you spend your time every day, and how precious it is. What this piece made me think about is that there is never too much of anything in a video. so putting all the concentration on one topic, which is a time in this piece, helps the audience to get a deeper understanding of the concept.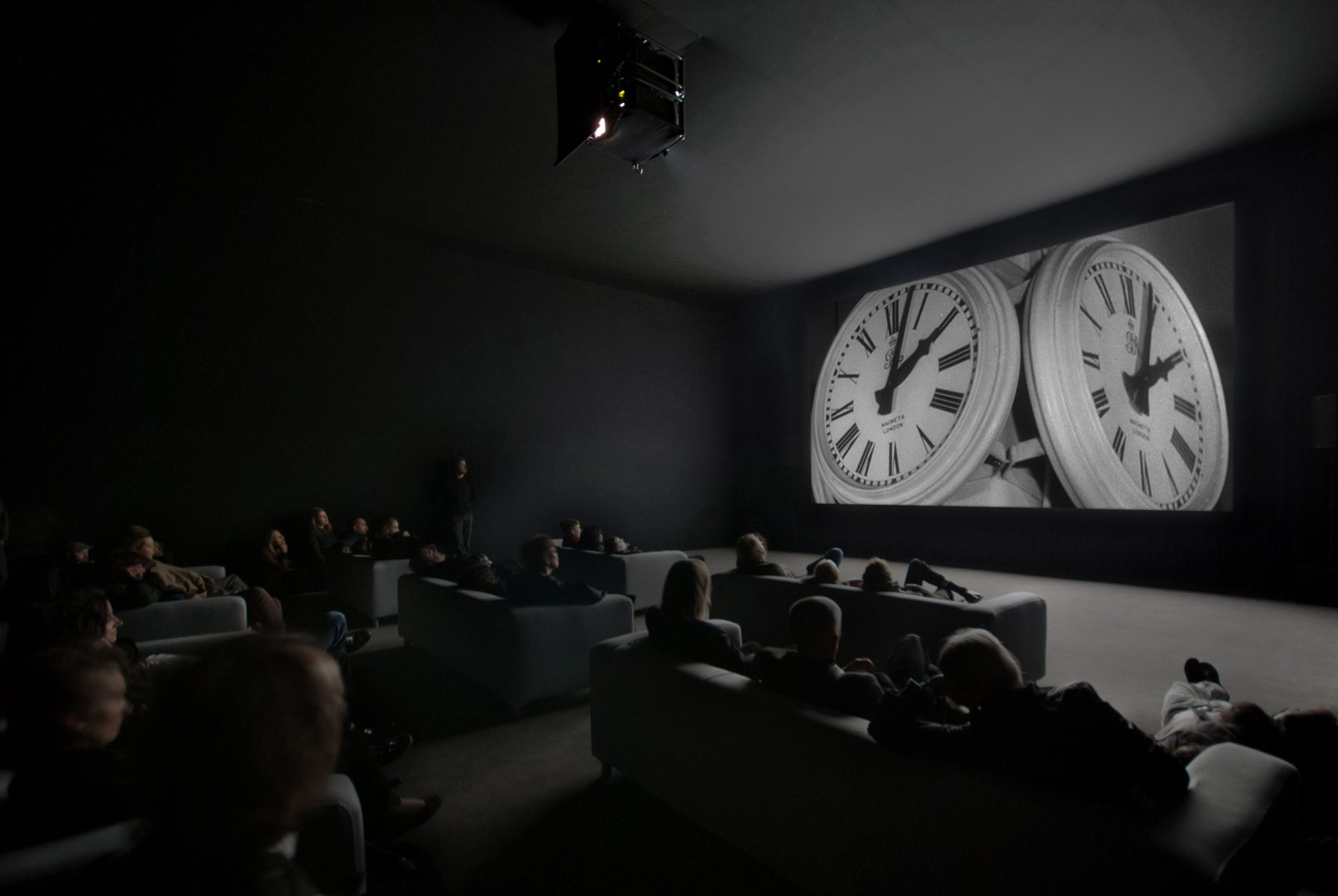 2018 Musée d'art contemporain de Montréal 
Reference
Tate, 10/08/2018. Christian Marclay (REF)
Imoreirasalles, 20/08/2017. The Clock , de Christian Marclay (REF)